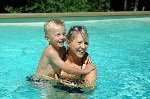 Et Cetera offers you a complete and comprehensive solution to the care and maintenance of your swimming pool . . . . .
Pool Care & Maintenance
Competitive contract rates
Ideal for gite owners
Professional & trustworthy
Registered & insured
Replacement pumps and filters
Training courses offered for beginners
Winter Shutdowns
Spring Startups
Equipment supplies
Conversion from chlorine to salt water system
Pool covers

THE SERVICE
We can offer a non-contractual arrangement whereby you pay on a "time spent" basis or choose a contractual arrangement whereby you pay a flat monthly figure and we take on the responsibility for keeping your pool in tip-top condition without any need for you to be involved - just enjoy the pool!

This includes:
Testing, balancing and maintaining water condition
Removal of leaves/debris.
Vacuuming.
Cleaning of the pool liner with appropriate products.
Checking, clearing and cleaning skimmers.
Backwashing filter.

Annual Maintenance:
Filter and pump operation checks.
Renewing sand filter medium.
Filter/valve repairs.
Check pipework for deterioration or leaks.
Also:
Fitting new pumps/filters.
Advice on and management of necessary chemistry.
Advice on and installation of Solar Heating and Pool Covers.
Pressure washing pool terrace to remove unsightly/slippery algae.
GREEN POOL??

Let us quickly cure your green pool problem and get it back to a pool you can swim in again in a very short time - without the need to drain the pool and refil it! The example here took just 4 days to transform. In its green state, there were frogs and diving beetles happily existing in the pool. After sympathetically re-homing the wildlife the pool was treated and cleaned without replacing any water.